'Greatful' Kevin Spacey cleared of sex assault charges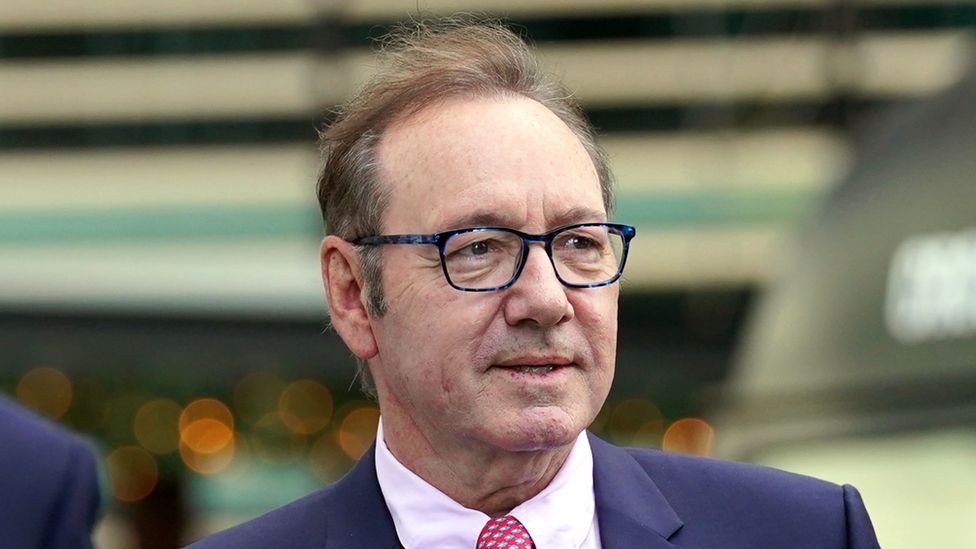 Hollywood actor Kevin Spacey wept in court as he was cleared of all charges in his sexual assault trial in London.
Jurors at Southwark Crown Court returned not guilty verdicts for nine sexual offence charges relating to four men between 2001 and 2013.
Speaking afterwards, Mr Spacey said he was "grateful" to the jury as he thanked them for their deliberations – which took more than 12 hours.
Outside the court the Oscar winner added he was "humbled".
The US actor was acquitted of seven counts of sexual assault, one count of causing a person to engage in sexual activity without consent and one count of causing a person to engage in penetrative sexual activity without consent.
After the verdict was read, he put his hand on his chest, looked at the jurors and mouthed "thank you" twice before they left the room.
Addressing journalists on the court's steps Mr Spacey said there was "a lot for me to process".
"I would like to say that I am enormously grateful to the jury for having taken the time to examine all of the evidence and all of the facts carefully before they reached their decision," he said.
"I am humbled by the outcome today. I also want to thank the staff inside this courthouse, the security, and all of those who took care of us every single day."
Jurors rejected the prosecution's claims Mr Spacey had "aggressively" grabbed three men by the crotch and had performed a sex act on another man while he was asleep in his flat.
Prosecutors told the jury the star had left the four complainants feeling "small, diminished and worthless".
Mr Spacey, who turned 64 on Wednesday, denied all charges – saying the allegations against him were "weak", "madness" and a "stab in the back".
Under questioning from Mr Spacey's lawyer, Patrick Gibbs KC, the complainants had all denied either seeking financial gain, attempting to further their career or giving false accounts to the jury.
By law all complainants are entitled to life-long anonymity.
The Crown Prosecution Service (CPS) said prosecutors respected the jury's decision.
In a statement, a spokesman said: "The function of the CPS is not to decide whether a person is guilty of a criminal offence, but to make fair, independent and objective assessments about whether it is appropriate to present charges."
The trial lasted nearly four weeks and jurors heard from multiple witnesses – including Mr Spacey himself.
Defence witnesses included Sir Elton John, who appeared by video link from Monaco, as well as Sir Elton's husband, David Furnish.
The Hollywood star won best actor Oscar in 2000 for American Beauty, and best supporting actor in 1995 for The Usual Suspects.
He was also the artistic director at the Old Vic Theatre in London between 2004 and 2015.
Mr Spacey's career came to a halt in 2017 after a number of accusations of inappropriate behaviour were made against him.
At the time, he had the starring role of Frank Underwood in Netflix political drama House of Cards, which he lost.
He was charged with the offences against three men by the CPS in May 2022, with additional charges from a fourth complainant added in November 2022.